We've made your new signs for you - want us to do the really hard work as well? Let Sign Designs 4U install your signs properly and safely.
Professional installation is the last and arguably most important step in getting your brand new signs up and running.
Sign Designs 4U doesn't just want to design and manufacture your superior signs, we want to make sure you get every cent of value out of them both now and into the future by installing them right the first time.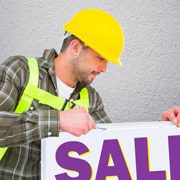 SIGNS NEED TO BE INSTALLED PROPERLY FOR:
Professionally guaranteed workmanship
Staff and public safety
Maximisation of signage benefits
Regulations compliance
Installation of signs can also just be difficult, time-consuming and in some cases unsafe, so you can rely on Sign Designs 4U to take a job off your plate.
We can quickly and easily install all types of signage, so ensure it's done right the first time without risking damage to your signs, premises, people or brand.
We know better than anyone that there's little point ordering the best signs in the business if they aren't displayed properly and safely.
We design signs to do your brand image and reputation justice - and the final link in the chain is expert installation. Let us do the hard work whilst ensuring your signs are up and running in exactly the way you envisaged.